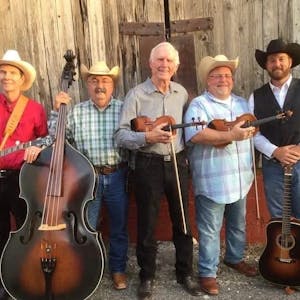 Cain's Ballroom welcomes Byron Berline Band for a reserved, socially distant show on September 17, 2020
Bryon Berline Band
Official Site | Facebook | Instagram | Twitter
For an exciting evening of traditional bluegrass and Western swing music, join three time national fiddle champion Byron Berline and his band; Billy Perry, Thomas Trapp, Greg Burgess, Richard Sharp and Steve Short.
Berline's early career included playing fiddle with bluegrass legends such as Bill Monroe, Dillard and Clark and Country Gazette. After moving to Los Angeles in 1969, he soon became one of the most popular fiddlers in the music business. His long list of performing and recording credits includes The Rolling Stones, The Eagles, The Band, The Byrds, Elton John, Alabama, Mary Chapin Carpenter, The Flying Burrito Brothers, Rod Stewart, John Denver, Earl Scruggs, Emmylou Harris, Tammy Wynette, Mason Williams, Bob Dylan, Willie Nelson and Vince Gill. He also has extensive television and movie sound track credits and has appeared in STAR TREK, BLAZE, BACK TO THE FUTURE III, and BASIC INSTINCT.
Berline has recorded seven solo albums including his highly acclaimed "FIDDLE & A SONG" with guest performances from Vince Gill, Mason Williams, Earl Scruggs and Bill Monroe. In 1996 the album was nominated for two Grammy awards, 'Best Album of the Year' and ' Best Song of the Year'.
In 1995 Byron returned to his home state of Oklahoma where he opened a Fiddle Shop in the town of Guthrie, for the purpose of "visiting, trading and jamming" with folks who enjoy their music. As a natural progression a band was formed to entertain regularly in the Music Hall above the Fiddle Shop. The Byron Berline Band found themselves in great demand around the state, as well as surrounding states, and have extended their music through Europe.
Continue reading here...
---------------
Tickets will ONLY be sold as reserved Tables of 2 or 4 with a very limited capacity. Tables will cost $37.50 (2) or $75 (4) + fees per table and will ONLY be available online. At this time, we will not be selling individual general admission tickets. A seating chart can be seen below.
Please try to arrive with your entire group since there will not be hard tickets for this event, and we will check you in as you arrive. The E-tickets option has also been turned off, so that the purchaser is aware of whom they will be sitting with and no secondary sales take place.
---------------
RATHER WATCH THE SHOW FROM THE COMFORT OF YOUR OWN HOME?! A FREE LIVE STREAM (COURTESY OF LIVE FROM CAIN'S) WILL BE AVAILABLE ON OUR FACEBOOK PAGE.
---------------
As you may be aware, Tulsa has implemented a mask mandate through November 30, which essentially means that guests, and venue staff, over the age of 18 are required to wear a face mask while attending events in public settings and this includes events at Cain's Ballroom. Masks may temporarily be removed to eat and drink, but please, for the safety of others, keep it on when you are not eating or drinking. For full details on the city's mask mandate, please visit here.
To attend our event on Tuesday, September 15, 2020 guests will be required to wear a mask when...
- entering and exiting the venue
- walking around the venue
- ordering food and drink from the bars
- going to and from the bathrooms
- buying merchandise
- unable or unwilling to social distance
Please do not attend this event if you have...
- a diagnosis of coronavirus
- a fever within the last 24 hours
- a new cough
- a new onset of shortness of breath
- been in an area affected by widespread coronavirus (within 14 days)
- had direct contact with a confirmed case of coronavirus (within 14 days)
- been told to self quarantine (within 14 days)
Hand sanitizing stations will be readily available around the venue and at the bar(s).
Only every other toilet / urinal will be available and staff will be regularly attending to the bathroom facilities.
Smoking and vaping is not allowed inside of Cain's Ballroom. There is an outdoor area on the north side of the Ballroom for this.
While accessing the bar(s), please adhere to the 6 foot "marks" and lines established. We have also installed plastic barriers between you and the bar staff.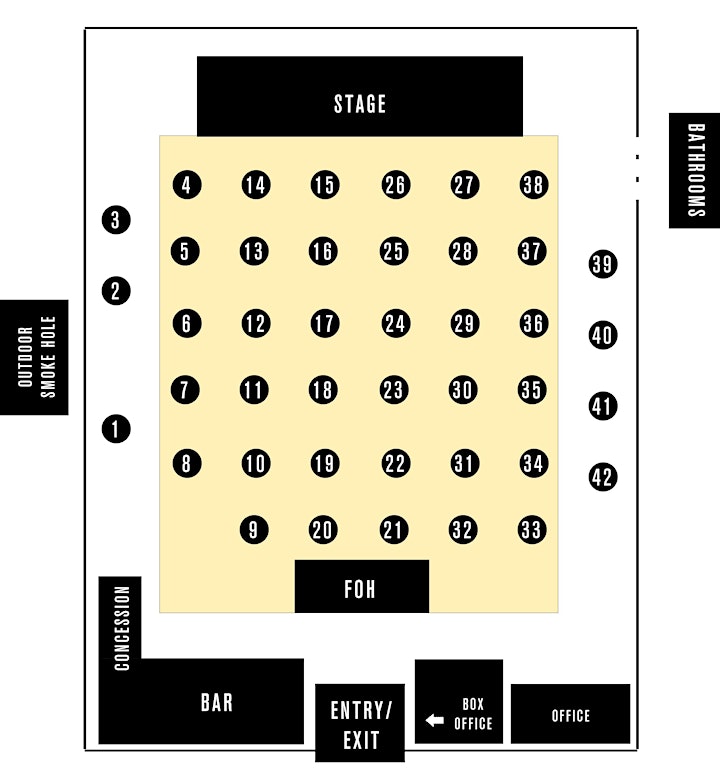 ATTENTION! PUBLIC NOTICE AND CONSENT RE: COVID-19

The novel coronavirus, COVID-19, has been declared a worldwide pandemic by the World Health Organization. The CDC and other state/local health authorities recommend practicing social distancing. COVID-19 is reported to be extremely contagious. The state of medical knowledge is evolving, but the virus is believed to spread from person-to-person contact and/or by contact with contaminated surfaces and objects, and even possibly in the air. People reportedly can be infected and show no symptoms and therefore spread the disease. The exact methods of spread and contraction are unknown, and there is no known treatment cure, or vaccine for COVID-19. Evidence has shown that COVID-19 can cause serious and potentially life threatening illness and even death.

This venue, the artist(s), and promoter(s) can not prevent you from becoming exposed to, contracting, or spreading COVID-19 while attending a concert on these premises. It is not possible to prevent against the presence of the disease. Therefore, if you choose enter onto these premises, you may be exposing yourself to and/or increasing your risk of contracting or spreading COVID-19.

BY YOUR PRESENCE AND ENTERING THESE PREMISES, YOU ACKNOWLEDGE THAT YOU HAVE READ AND UNDERSTOOD THE ABOVE WARNING CONCERNING COVID-19.

You hereby choose to accept the risk of contracting COVID-19 for yourself and/or your children and accept the risk of being exposed to, contracting, and/or spreading COVID-19 in order to attend this concert.

WAIVER OF LAWSUIT/LIABILITY: By entering these premises, you hereby forever release and waive your right to bring suit against Cain's Ballroom, its owners, officers, directors, managers, officials, trustees, agents, employees, or other representatives in connection with exposure, infection, and/or spread of COVID-19 related to your presence at these premises. You understand that this waiver means you give up your right to bring any claims including for personal injuries, death, disease or property losses, or any other loss, including but not limited to claims of negligence and give up any claim you may have to seek damages, whether known or unknown, foreseen or unforeseen.

THE VENUE, ARTIST(S), AND PROMOTER(S) ARE PROCEEDING IN RELIANCE UPON THIS NOTICE AND YOUR CONSENT IN CONNECTION WITH YOUR ATTENDANCE AND YOUR WAIVER OF ANY AND ALL CLAIMS IN CONNECTION THEREWITH.

IF YOU DO NOT WISH TO GIVE SUCH CONSENT AND ASSUME THE RISKS, DO NOT PURCHASE TICKETS OR ATTEND!

Venue Information:
Cain's Ballroom
423 N Main St.
Tulsa, OK, 74103