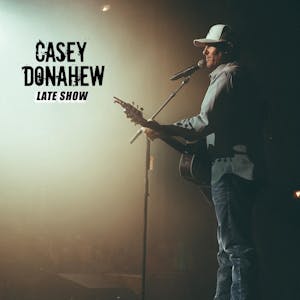 Cain's Ballroom welcomes Casey Donahew (Acoustic) to Tulsa, OK on Thursday, October 29, 2020 for a LATE SHOW
eTickets have a delayed delivery and will be sent within 5 days of the event!
Advance - $28 + fees
Day of Show - $28 + fees
Door - $35
General admission tickets have an 6 ticket limit .This is per person, address, credit card, email, etc... Orders over this limit may have any or all of their orders refunded without notice.
No re-entry! No smoking! No refunds!
Capacity for this event has been lowered by more than 75% to allow for social distancing. Please do your best to do so and be considerate of those around you. Do not crowd the stage. There is plenty of room.
As you may be aware, Tulsa has implemented a mask mandate through January 31, 2021, which essentially means that guests, and venue staff, over the age of 10 are required to wear a face mask while attending events in public settings and this includes events at Cain's Ballroom. For full details on the city's mask mandate, please visit here.
To attend this event, guests will be required to wear a mask when...
- entering and exiting the venue
- ordering food and drink from the bars
- going to and from the bathrooms
- buying merchandise
- unable or unwilling to social distance
Please do not attend this event if you have...

- a diagnosis of coronavirus

- a fever within the last 24 hours

- a new cough

- a new onset of shortness of breath

- been in an area affected by widespread coronavirus

- had direct contact with a confirmed case of coronavirus

- been told to self quarantine

Hand sanitizing stations will be readily available around the venue and at the bar(s).

Only every other toilet / urinal will be available and staff will be regularly attending to the bathroom facilities.

Smoking and vaping is not allowed inside of Cain's Ballroom. There is an outdoor area on the north side of the Ballroom for this.

While accessing the bar(s), please adhere to the 6 foot "marks" and lines established. We have also installed plastic barriers between you and the bar staff.

If you still wish to attend, please do your part by social distancing and adhering to the guidelines above. These small steps can help save the future of live music at Cain's Ballroom.

-------------------------

ATTENTION! PUBLIC NOTICE AND CONSENT RE: COVID-19

The novel coronavirus, COVID-19, has been declared a worldwide pandemic by the World Health Organization. The CDC and other state/local health authorities recommend practicing social distancing. COVID-19 is reported to be extremely contagious. The state of medical knowledge is evolving, but the virus is believed to spread from person-to-person contact and/or by contact with contaminated surfaces and objects, and even possibly in the air. People reportedly can be infected and show no symptoms and therefore spread the disease. The exact methods of spread and contraction are unknown, and there is no known treatment cure, or vaccine for COVID-19. Evidence has shown that COVID-19 can cause serious and potentially life threatening illness and even death.

This venue, the artist(s), and promoter(s) can not prevent you from becoming exposed to, contracting, or spreading COVID-19 while attending a concert on these premises. It is not possible to prevent against the presence of the disease. Therefore, if you choose enter onto these premises, you may be exposing yourself to and/or increasing your risk of contracting or spreading COVID-19.

BY YOUR PRESENCE AND ENTERING THESE PREMISES, YOU ACKNOWLEDGE THAT YOU HAVE READ AND UNDERSTOOD THE ABOVE WARNING CONCERNING COVID-19.

You hereby choose to accept the risk of contracting COVID-19 for yourself and/or your children and accept the risk of being exposed to, contracting, and/or spreading COVID-19 in order to attend this concert.

WAIVER OF LAWSUIT/LIABILITY: By entering these premises, you hereby forever release and waive your right to bring suit against Cain's Ballroom, its owners, officers, directors, managers, officials, trustees, agents, employees, or other representatives in connection with exposure, infection, and/or spread of COVID-19 related to your presence at these premises. You understand that this waiver means you give up your right to bring any claims including for personal injuries, death, disease or property losses, or any other loss, including but not limited to claims of negligence and give up any claim you may have to seek damages, whether known or unknown, foreseen or unforeseen.

THE VENUE, ARITST(S), AND PROMOTER(S) ARE PROCEEDING IN RELIANCE UPON THIS NOTICE AND YOUR CONSENT IN CONNECTION WITH YOUR ATTENDANCE AND YOUR WAIVER OF ANY AND ALL CLAIMS IN CONNECTION THEREWITH.

IF YOU DO NOT WISH TO GIVE SUCH CONSENT AND ASSUME THE RISKS, DO NOT PURCHASE TICKETS OR ATTEND!

Venue Information:
Cain's Ballroom
423 N Main Street
Tulsa, OK, 74103