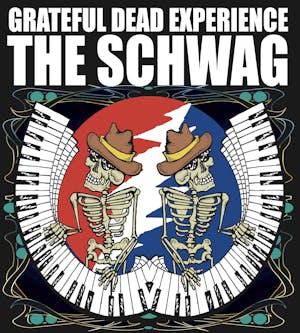 Grateful Dead Experience: The Schwag
$10.00 - $20.00
Tickets At The Door
Cain's Ballroom welcomes The Schwag back to Tulsa, OK on November 25, 2020 for a socially distant, pre-Thanksgiving concert!
Tickets will be sold as...
*Reserved Table of 4 - $80 + fees
Advance GA - $10 + fees
Day of Show GA - $15 + fees
Door GA - $15
*Reserved Tables of 4 will only be available online and only available for will call pick up at the door upon entry. Please try to arrive with your entire group of 4. A seating chart can be seen below. Tables will be allocated at the time of purchase on a 'best available' basis.
The Schwag
Official Site | Facebook | Instagram | Twitter
The Schwag is a band of musicians dedicated to carrying on the vibe and music of the legendary Grateful Dead. Founded in 1991 The Schwag has performed over 3000 concerts all over the United States. This group averages 150 shows a year and has a working songlist of over 200 songs from the Grateful Dead and Jerry Garcia Band catalog. For four years band leader Jimmy Tebeau also toured the country as the bass player for JGB (Jerry Garcia Band). The Schwag has opened for many noteable acts including String Cheese Incident, Marshall Tucker Band, Leftover Salmon, Sammy Hagar, Little Feat, and Railroad Earth. For many years The Schwag hosted its own Schwagstock music festivals drawing crowds of an average of 5000 people per event several times per summer. The band owned the venue Camp Zoe in Missouri where the festivals were hosted. Some of the bands opening for The Schwag at these festivals were George Clinton & Parliament Funkadelic, Keller Williams, Big Brother & the Holding Company, and New Riders of the Purple Sage. Some of the guest musicians to play with The Schwag over the years include Chuck Berry, Bill Nershi from String Cheese Incident, Drew Emmitt and Vince Herman from Leftover Salmon, Butch Trucks from The Allman Brothers Band, Fred Tacket from Little Feat, Mike Gordon from Phish, and Vince Welnick from The Grateful Dead. Honorary band members for full Schwag shows include Merl Saunders, Melvin Seals, Johnnie Johnson, Jason & Travis & Kang from String Cheese Incident, and Devon Allman (Gregg's son.) From May of 2013 to May of 2014, The Schwag was primarily on hiatus, as lead singer Jimmy Tebeau served time in federal prison in Yankton, South Dakota for a music/drug related crime. The Schwag band is now stronger than ever on a perpetual tour performing a different show every night of high energy organic interpretations of the Grateful Dead.
The City of Tulsa has implemented a mask mandate through January 31, 2021, which essentially means that guests, and venue staff, over the age of 10 are required to wear a face mask while attending events in public settings and this includes events at Cain's Ballroom. Masks may temporarily be removed to eat and drink, but please, for the safety of others, keep it on when you are not eating or drinking. For full details on the city's mask mandate, please visit here.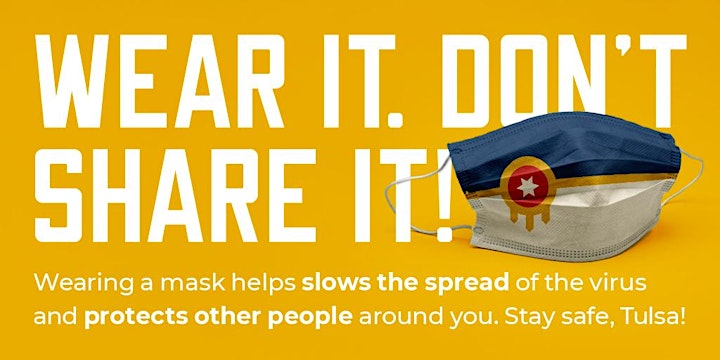 To attend this event, guests will be required to wear a mask when...
- entering and exiting the venue
- walking around the venue
- ordering food and drink from the bars
- going to and from the bathrooms
- buying merchandise
IF YOU PURCHASED A TABLE, YOU MAY REMOVE YOUR MASK ONCE SEATED.
Please do not attend this event if you have...
- a diagnosis of coronavirus
- a fever within the last 24 hours
- a new cough
- a new onset of shortness of breath
- been in an area affected by widespread coronavirus (within 14 days)
- had direct contact with a confirmed case of coronavirus (within 14 days)
- been told to self quarantine (within 14 days)
Hand sanitizing stations will be readily available around the venue and at the bar(s).
Only every other toilet / urinal will be available and staff will be regularly attending to the bathroom facilities.
Smoking and vaping is not allowed inside of Cain's Ballroom. There is an outdoor area on the north side of the Ballroom for this.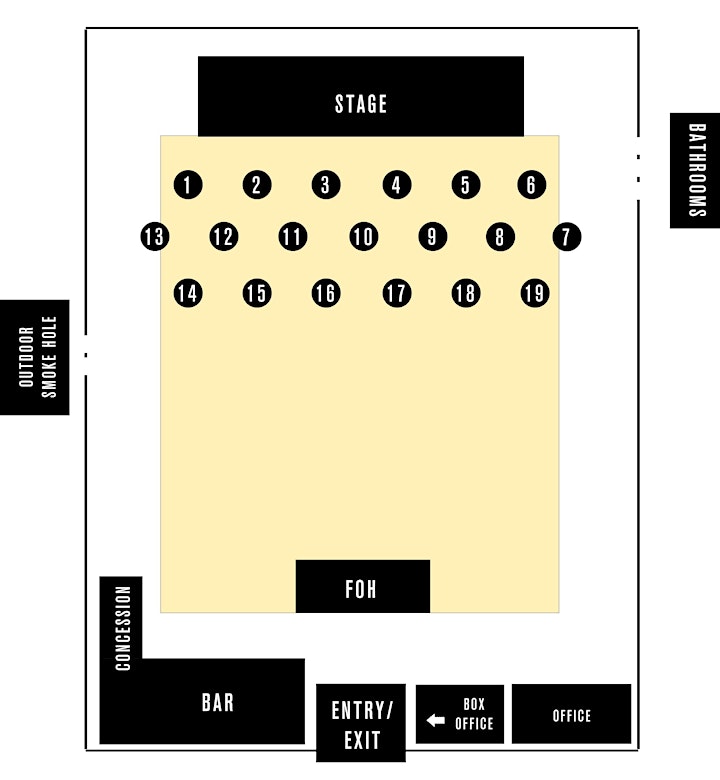 ATTENTION! PUBLIC NOTICE AND CONSENT RE: COVID-19

The novel coronavirus, COVID-19, has been declared a worldwide pandemic by the World Health Organization. The CDC and other state/local health authorities recommend practicing social distancing. COVID-19 is reported to be extremely contagious. The state of medical knowledge is evolving, but the virus is believed to spread from person-to-person contact and/or by contact with contaminated surfaces and objects, and even possibly in the air. People reportedly can be infected and show no symptoms and therefore spread the disease. The exact methods of spread and contraction are unknown, and there is no known treatment cure, or vaccine for COVID-19. Evidence has shown that COVID-19 can cause serious and potentially life threatening illness and even death.

This venue, the artist(s), and promoter(s) can not prevent you from becoming exposed to, contracting, or spreading COVID-19 while attending a concert on these premises. It is not possible to prevent against the presence of the disease. Therefore, if you choose enter onto these premises, you may be exposing yourself to and/or increasing your risk of contracting or spreading COVID-19.

BY YOUR PRESENCE AND ENTERING THESE PREMISES, YOU ACKNOWLEDGE THAT YOU HAVE READ AND UNDERSTOOD THE ABOVE WARNING CONCERNING COVID-19.

You hereby choose to accept the risk of contracting COVID-19 for yourself and/or your children and accept the risk of being exposed to, contracting, and/or spreading COVID-19 in order to attend this concert.

WAIVER OF LAWSUIT/LIABILITY: By entering these premises, you hereby forever release and waive your right to bring suit against Cain's Ballroom, its owners, officers, directors, managers, officials, trustees, agents, employees, or other representatives in connection with exposure, infection, and/or spread of COVID-19 related to your presence at these premises. You understand that this waiver means you give up your right to bring any claims including for personal injuries, death, disease or property losses, or any other loss, including but not limited to claims of negligence and give up any claim you may have to seek damages, whether known or unknown, foreseen or unforeseen.

THE VENUE, ARTIST(S), AND PROMOTER(S) ARE PROCEEDING IN RELIANCE UPON THIS NOTICE AND YOUR CONSENT IN CONNECTION WITH YOUR ATTENDANCE AND YOUR WAIVER OF ANY AND ALL CLAIMS IN CONNECTION THEREWITH.

IF YOU DO NOT WISH TO GIVE SUCH CONSENT AND ASSUME THE RISKS, DO NOT PURCHSAE TICKETS OR ATTEND!

Venue Information:
Cain's Ballroom
423 N Main St.
Tulsa, OK, 74103