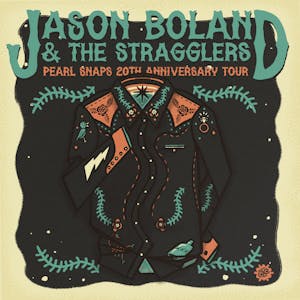 Pearl Snaps 20th Anniversary Tour
Jason Boland & The Stragglers
Cain's Ballroom welcomes Jason Boland and The Stragglers to Tulsa, OK on August 21, 2020 for the Pearl Snaps 20th Anniversary Tour
TICKETS ARE CURRENTLY SOLD OUT. TICKETS WILL BE COME AVAILABLE IF REFUNDS ARE REQUESTED. READ BELOW FOR MORE INFORMATION ON ATTENDING THIS EVENT. IF YOU WOULD LIKE A REFUND, EMAIL INFO@CAINSBALLROOM.COM NO LATER THAN AUGUST 14TH AT 9PM.
First of all, capacity for this event has been lowered by 75% to allow for social distancing. Please do your best to do so and be considerate of those around you. Do not crowd the stage. There is plenty of room.
As you may be aware, Tulsa has implemented a mask mandate through November 30, which essentially means that guests, and venue staff, over the age of 18 are required to wear a face mask while attending events in public settings and this includes events at Cain's Ballroom. For full details on the city's mask mandate, please visit here.
To attend our event on Friday, August 21, 2020 guests will be required to wear a mask when...
- entering and exiting the venue
- ordering food and drink from the bars
- going to and from the bathrooms
- buying merchandise
- unable or unwilling to social distance
Please do not attend this event if you have...

- a diagnosis of coronavirus

- a fever within the last 24 hours

- a new cough

- a new onset of shortness of breath

- been in an area affected by widespread coronavirus

- had direct contact with a confirmed case of coronavirus

- been told to self quarantine

Hand sanitizing stations will be readily available around the venue and at the bar(s).

Only every other toilet / urinal will be available and staff will be regularly attending to the bathroom facilities.

Smoking and vaping is not allowed inside of Cain's Ballroom. There is an outdoor area on the north side of the Ballroom for this.

While accessing the bar(s), please adhere to the 6 foot "marks" and lines established. We have also installed plastic barriers between you and the bar staff.

Masks can be removed to eat and drink.

If you still wish to attend, please do your part by social distancing and adhering to the guidelines above. These small steps can help save the future of live music at Cain's Ballroom.

----------------------------------------------------------------

Jason Boland & The Stragglers, originally scheduled for April 17, has been rescheduled for Friday, August 21!

There is no need to exchange the tickets you already have in your Eventbrite account, just show up as you would with barcode(s) in hand.

-----------------------------------------------------------------

Advance - $17 + fees

Day of Show - $19 + fees

Door - $22

Mezzanine (21+) - $32 + fees

General admission tickets have an 8 ticket limit and Mezzanine tickets have a 4 ticket limit. This is per person, address, credit card, email, etc... Orders over this limit may have any or all of their orders refunded without notice.

No re-entry! No smoking!

Jason Boland and The Stragglers

Official Site | Facebook | Instagram | Twitter

Music is having a moment. Listeners are crying out for something true––some meaty songs that'll give us some comfort, even as they cut closer to the bone.

Everyone is finally ready for the gritty, thundering country Jason Boland and the Stragglers have sharpened over almost 20+ years' worth of selling out roomy venues and commanding stages across the nation.

"We're just trying to make something that we're proud of," lead songwriter and vocalist Boland says. "If any more people want to take notice of it, they're welcome."

Since coming together in Stillwater, Oklahoma, Boland and his tight knit crew have sold more than half a million albums independently and earned a devoted following that's swelled far beyond the band's red dirt roots. At a Stragglers show, oil patch roughnecks, hippies, college kids, and intelligentsia all sway side-by-side like a traveling reincarnation of Austin's Armadillo World Headquarters in its cosmic cowboy, Willie Nelson heyday.

While the Stragglers draw from rock and folk, make no mistake: they traffic in unfiltered, unfettered honky-tonk, raw and lean.

For 2020, the band is celebrating the 20th Anniversary of their debut album Pearl Snaps with a nationwide tour where the band will play the record front to back along with favorites from their extensive catalog. The legendary record was recorded with famed producer Lloyd Maines and behind the success of songs like "Pearl Snaps" "Somewhere Down in Texas" "Proud Souls" and others it quickly became a beloved classic and still continues to be named as a major influence for many of the top artists coming out of the Texas/Oklahoma country music scene.

Venue Information:
Cain's Ballroom
423 N Main Street
Tulsa, OK, 74103