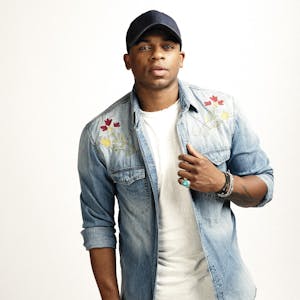 Jimmie Allen
King Calaway
$0.00 - $95.00
WIN 'EM OR WALK 'EM
On K95.5
K95.5 is bringing Jimmie Allen and King Calaway to Cain's Ballroom on September 26, 2019 for a private concert to benefit St. Jude
The only way you can get tickets is to WIN 'EM OR WALK 'EM.
WALK 'EM
The only way you can guarantee a pair of tickets to the show is to join the Cash & Bradley Bleacher Brigade team for the St. Jude 5k Walk/Run and fundraiser $95. Register for the team HERE and click here to learn more about the event.
WIN 'EM
There are also two different ways to win tickets: ticket drops and on-air contests. K95.5 is taking the tickets to the streets for five different ticket drop options. The first 95 people in line for the tickets at each location will walk away with a pair of tickets for the show. The locations and dates will be announced on the K95.5 Facebook and Instagram pages. K95.5 will also be giving out tickets on air leading up to the concert.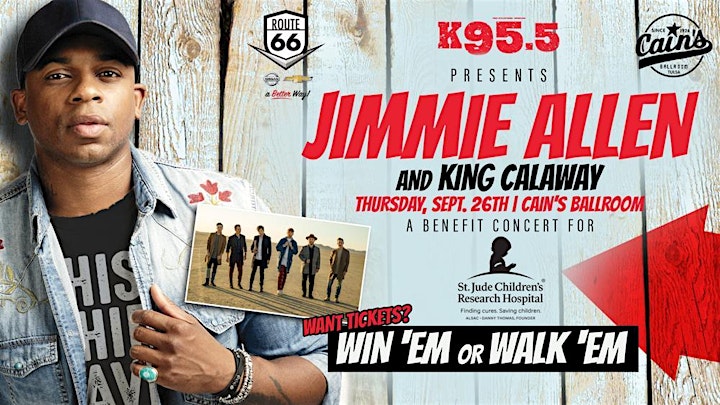 Jimmie Allen

Official Site | Facebook | Instagram | Twitter

The epitome of the phrase "persistence pays off," Jimmie Allen laid it all on the line to make his dreams a reality. Now signed to BBR Music Group's Stoney Creek Records, Allen's debut single "Best Shot" is a certified hit, claiming the spot as the #1 Most Shazamed song in the format for five consecutive weeks, as it continues to climb up the Top 5 on Country radio. On October 12th, Allen released his hotly-anticipated debut album, Mercury Lane, named in tribute to the street he grew up on and the origin of his incredible journey. Featuring a cutting-edge mix of country, rock, R&B, and pop, Mercury Lane draws upon the influence his family and small-town upbringing of the critically-acclaimed rising star.

The Southern Delaware native's talent for songwriting is undeniable, having written a song that was featured in a Super Bowl commercial and appearing in a Diet Coke ad with megastar Taylor Swift. "Blue Jean Baby," off his debut self-titled EP, immediately caught the attention of country music fans and critics alike with its soulful groove— rocketing it to the top of digital playlists, across all genres. After introducing his music at festivals across the country this summer, this fall Allen will hit the road once again to share the stage with Chase Rice, Kane Brown, and Scotty McCreery. The hot newcomer has already been heralded as one of the top "artists to watch in 2018" by Rolling Stone, Billboard, Pandora, Sounds Like Nashville, NY Country Swag, Country Music Rocks, New England Country Music and has earned spots in CMT's "18 for 2018" Listen Up program, Bobby Bones' Class of 2018.

Venue Information:
Cain's Ballroom
423 N Main Street
Tulsa, OK, 74103