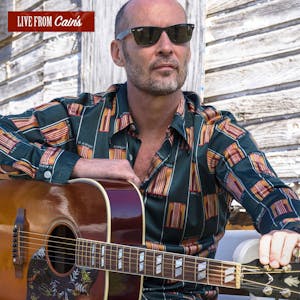 Paul Thorn
Paul Benjaman & The Oklahoma Specials
Live From Cain's is a new public radio show concept recorded in front of a live audience from the stage of the historic Cain's Ballroom
This is a general admission, seated event!
--------------------------------------------------------------
A message from "Live From Cain's" and Cain's Ballroom...
In the interest of the health and safety of our audience, we are postponing our "Live From Cain's" radio show event with Paul Thorn from the original June 17, 2020 date to Wednesday December 2, 2020.
We apologize for any inconvenience this may cause. There is no need to exchange the tickets you already have in your Eventbrite account, just show up as you normally would with barcode(s) in hand.
If you are unable to attend or would like a refund, please contact info@cainsballroom.com and include your order number and phone number. Refunds will be available through July 17, 2020.
Thank you for your support and understanding.
--------------------------------------------------------------
Advance - $25 + fees
Day of Show - $25 + fees
Door - $32
General admission tickets have an 8 ticket limit. This is per person, address, credit card, email, etc... Orders over this limit may have any or all of their orders refunded without notice.
No re-entry! No smoking! No refunds!
For sponsorship opportunities, please contact Live From Cain's.
Live From Cain's
Official Site | Facebook | Instagram | Twitter
"Live From Cain's" is a smart and edgy concept for public radio combining the power of live music with thought-provoking and entertaining conversations. Hosted by critically-acclaimed singer-songwriter Robbie Fulks, and featuring a talented house band of Tulsa musicians led by Paul Benjaman, "Live From Cain's" episodes will include nationally touring musical co-hosts that will attract listening audiences from coast-to-coast while showcasing Cain's Ballroom as an historic music venue and Tulsa as a premier American destination for music, tourism and culture.
Paul Thorn
Official Site | Facebook | Instagram | Twitter
Paul Thorn has created an innovative and impressive career, pleasing crowds with his muscular brand of roots music – bluesy, rocking and thoroughly Southern American, yet also speaking universal truths. Among those who value originality, inspiration, eccentricity and character – as well as talent that hovers somewhere on the outskirts of genius, the story of Paul Thorn is already familiar. Raised in Tupelo, Mississippi, among the same spirits (and some of the actual people) who nurtured the young Elvis generations before, Paul Thorn has rambled down back roads and jumped out of airplanes, worked for years in a furniture factory, battled four-time world champion boxer Roberto Duran on national television, signed with and been dropped by a major label, performed on stages with Bonnie Raitt, Mark Knopfler, Sting, and John Prine among many others, and made some of the most emotionally restless yet fully accessible music of our time. He's also appeared on major television shows such as Late Night with Conan O'Brien and Jimmy Kimmel Live, been the subject of numerous National Public Radio (NPR) features and charted multiple times on the Billboard Top 100 and Americana Radio Charts.
In 2018, Paul released an album titled Don't Let the Devil Ride, which he describes as "the culmination of my whole life in music, coming back to my roots." It marks his first time recording gospel music - featuring guests such as the Blind Boys of Alabama, the McCrary Sisters, and Preservation Hall Horns - and his creation of a body of strikingly original songs that address the foibles of human relationships without necessarily favoring the sacred over the profane.
Hosted by Robbie Fulks
Official Site | Facebook | Twitter
Robbie Fulks is a singer, recording artist, instrumentalist, composer and songwriter. His most recent release, 2018's Wild, Wild, Wild! with Linda Gail Lewis, has been featured on NPR's "Fresh Air" with Terry Gross, and in American Songwriter, Paste, Rolling Stone, The Wall Street Journal, and other publications. His 2017 album, Upland Stories, earned year's-best recognition from NPR and Rolling Stone among many others, as well as two Grammy nominations, for "Folk Album" and "American Roots Song" ("Alabama at Night").
Robbie's radio experience includes multiple appearances on WSM's "Grand Ole Opry"; PRI's "Whadd'ya Know"; NPR's "Fresh Air," "Mountain Stage," and "World Café" and "Laura Ingraham Show." From 2004 to 2008 he hosted an hour-long performance/interview program for XM Satellite Radio, "Robbie's Secret Country."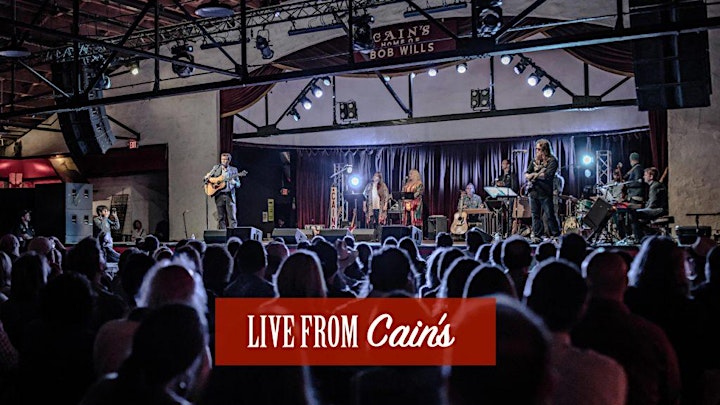 Venue Information:
Cain's Ballroom
423 N Main Street
Tulsa, OK, 74103