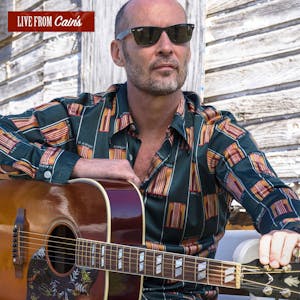 Paul Thorn
Paul Benjaman & The Oklahoma Specials
Live From Cain's is a new public radio show concept recorded in front of a live audience from the stage of the historic Cain's Ballroom
A message from "Live From Cain's"...
In light of the increasing cases of the coronavirus in Tulsa and surrounding communities, we feel that it is appropriate to cancel the public performance with Paul Thorn on December 2. We appreciate your understanding and support during this challenging time. Please accept our sincerest apologies for any inconvenience this may cause. We look forward to hosting you for an episode of "Live From Cain's" in the future.
A message from the venue...
All online ticket purchases will be refunded shortly. Orders placed in person at the venue box office can stop by Mondays, Wednesdays, or Fridays, 10am - 5pm, for a full refund. Stay well, Tulsa.
--------------------------------------------------------------
Advance - $25 + fees
Day of Show - $25 + fees
Door - $32
General admission tickets have a 4 ticket limit. This is per person, address, credit card, email, etc... Orders over this limit may have any or all of their orders refunded without notice.
No re-entry! No smoking! No refunds!
For sponsorship opportunities, please contact Live From Cain's.
Live From Cain's
Official Site | Facebook | Instagram | Twitter
"Live From Cain's" is a smart and edgy concept for public radio combining the power of live music with thought-provoking and entertaining conversations. Hosted by critically-acclaimed singer-songwriter Robbie Fulks, and featuring a talented house band of Tulsa musicians led by Paul Benjaman, "Live From Cain's" episodes will include nationally touring musical co-hosts that will attract listening audiences from coast-to-coast while showcasing Cain's Ballroom as an historic music venue and Tulsa as a premier American destination for music, tourism and culture.
Paul Thorn
Official Site | Facebook | Instagram | Twitter
Paul Thorn has created an innovative and impressive career, pleasing crowds with his muscular brand of roots music – bluesy, rocking and thoroughly Southern American, yet also speaking universal truths. Among those who value originality, inspiration, eccentricity and character – as well as talent that hovers somewhere on the outskirts of genius, the story of Paul Thorn is already familiar. Raised in Tupelo, Mississippi, among the same spirits (and some of the actual people) who nurtured the young Elvis generations before, Paul Thorn has rambled down back roads and jumped out of airplanes, worked for years in a furniture factory, battled four-time world champion boxer Roberto Duran on national television, signed with and been dropped by a major label, performed on stages with Bonnie Raitt, Mark Knopfler, Sting, and John Prine among many others, and made some of the most emotionally restless yet fully accessible music of our time. He's also appeared on major television shows such as Late Night with Conan O'Brien and Jimmy Kimmel Live, been the subject of numerous National Public Radio (NPR) features and charted multiple times on the Billboard Top 100 and Americana Radio Charts.
In 2018, Paul released an album titled Don't Let the Devil Ride, which he describes as "the culmination of my whole life in music, coming back to my roots." It marks his first time recording gospel music - featuring guests such as the Blind Boys of Alabama, the McCrary Sisters, and Preservation Hall Horns - and his creation of a body of strikingly original songs that address the foibles of human relationships without necessarily favoring the sacred over the profane.
--------------------
The City of Tulsa has implemented a mask mandate through January 31, 2021, which essentially means that guests, and venue staff, over the age of 10 are required to wear a face mask while attending events in public settings and this includes events at Cain's Ballroom. Masks may temporarily be removed to eat and drink, but please, for the safety of others, keep it on when you are not eating or drinking. For full details on the city's mask mandate, please visit here.
To attend this event, guests will be required to wear a mask when...
- entering and exiting the venue
- ordering food and drink from the bars
- going to and from the bathrooms
- buying merchandise
- unable or unwilling to social distance
Please do not attend this event if you have...
- a diagnosis of coronavirus
- a fever within the last 24 hours
- a new cough
- a new onset of shortness of breath
- been in an area affected by widespread coronavirus (within 14 days)
- had direct contact with a confirmed case of coronavirus (within 14 days)
- been told to self quarantine (within 14 days)
Hand sanitizing stations will be readily available around the venue and at the bar(s).
Only every other toilet / urinal will be available and staff will be regularly attending to the bathroom facilities.
Smoking and vaping is not allowed inside of Cain's Ballroom. There is an outdoor area on the north side of the Ballroom for this.
While accessing the bar(s), please adhere to the 6 foot "marks" and lines established. We have also installed plastic barriers between you and the bar staff.
ATTENTION! PUBLIC NOTICE AND CONSENT RE: COVID-19
The novel coronavirus, COVID-19, has been declared a worldwide pandemic by the World Health Organization. The CDC and other state/local health authorities recommend practicing social distancing. COVID-19 is reported to be extremely contagious. The state of medical knowledge is evolving, but the virus is believed to spread from person-to-person contact and/or by contact with contaminated surfaces and objects, and even possibly in the air. People reportedly can be infected and show no symptoms and therefore spread the disease. The exact methods of spread and contraction are unknown, and there is no known treatment cure, or vaccine for COVID-19. Evidence has shown that COVID-19 can cause serious and potentially life threatening illness and even death.
This venue, the artist(s), and promoter(s) can not prevent you from becoming exposed to, contracting, or spreading COVID-19 while attending a concert on these premises. It is not possible to prevent against the presence of the disease. Therefore, if you choose enter onto these premises, you may be exposing yourself to and/or increasing your risk of contracting or spreading COVID-19.
BY YOUR PRESENCE AND ENTERING THESE PREMISES, YOU ACKNOWLEDGE THAT YOU HAVE READ AND UNDERSTOOD THE ABOVE WARNING CONCERNING COVID-19.
You hereby choose to accept the risk of contracting COVID-19 for yourself and/or your children and accept the risk of being exposed to, contracting, and/or spreading COVID-19 in order to attend this concert.
WAIVER OF LAWSUIT/LIABILITY: By entering these premises, you hereby forever release and waive your right to bring suit against Cain's Ballroom, its owners, officers, directors, managers, officials, trustees, agents, employees, or other representatives in connection with exposure, infection, and/or spread of COVID-19 related to your presence at these premises. You understand that this waiver means you give up your right to bring any claims including for personal injuries, death, disease or property losses, or any other loss, including but not limited to claims of negligence and give up any claim you may have to seek damages, whether known or unknown, foreseen or unforeseen.
THE VENUE, ARTIST(S), AND PROMOTER(S) ARE PROCEEDING IN RELIANCE UPON THIS NOTICE AND YOUR CONSENT IN CONNECTION WITH YOUR ATTENDANCE AND YOUR WAIVER OF ANY AND ALL CLAIMS IN CONNECTION THEREWITH.
IF YOU DO NOT WISH TO GIVE SUCH CONSENT AND ASSUME THE RISKS, DO NOT PURCHSAE TICKETS OR ATTEND!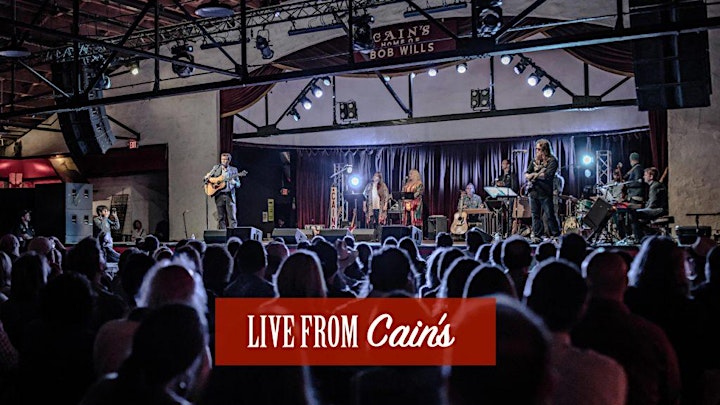 --------------------

A message from "Live From Cain's" and Cain's Ballroom...

In the interest of the health and safety of our audience, we are postponing our "Live From Cain's" radio show event with Paul Thorn from the original June 17, 2020 date to Wednesday December 2, 2020.

We apologize for any inconvenience this may cause. There is no need to exchange the tickets you already have in your Eventbrite account, just show up as you normally would with barcode(s) in hand.

If you are unable to attend or would like a refund, please contact info@cainsballroom.com and include your order number and phone number. Refunds will be available through July 17, 2020.

Thank you for your support and understanding.

Venue Information:
Cain's Ballroom
423 N Main Street
Tulsa, OK, 74103